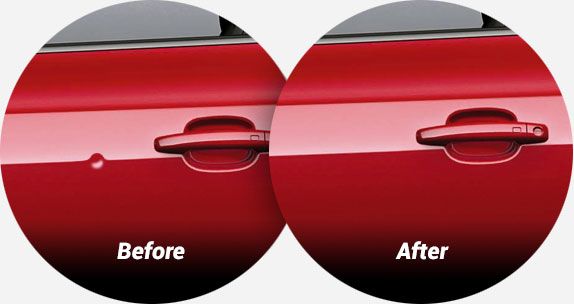 Paintless Dent Removal
Paintless Dent Removal is a process involving the removal of dents and small accident damage without the need for spraying!
Repairs completed at a fraction of bodyshop costs
Repair costs may be less than your insurance excess
Dents completely removed or dramatically improved *
Over 40 years experience in the repair of bodywork
(* If the paint is scratched or broken a "tidy up" repair may be possible)
Paintless Dent Removal is a process that allows small dents and accident damage to be removed from vehicle body panels.
We use various tools to gently massage and extract the dent without the need for sanding or the use of bodyfiller.
On average, most jobs can be completed in less than an hour!
Contact Details
E W Pinchbecks & Sons Ltd
The Garage, Middle Wallop
Stockbridge
Hampshire
SO20 8EG

Telephone: 01264 782210
Service: 01264 781460
Fax: 01264 782574
Email: Click Here to Email Us
Car Sales - Middle Wallop
| | | | |
| --- | --- | --- | --- |
| Mon - Fri | 9:00am | to | 6:00pm |
| Saturday | 9:00am | to | 5:00pm |
| Sunday | Viewing | by | Appointment |
01264 - 782210 - OPT 4
Gary Waite - Sales Manager

Parts Department
| | | | |
| --- | --- | --- | --- |
| Mon - Fri | 8:00am | to | 5:00pm |
| Saturday | | Closed | |
| Sunday | | Closed | |
01264 782278 - OPT 3
Nigel Pinchbeck - Parts Manager
Service Department
| | | | |
| --- | --- | --- | --- |
| Mon - Fri | 8:00am | to | 6:00pm |
| Saturday | 8:00am | to | 12:30pm |
| Sunday | | Closed | |
01264 781460 - OPT 1
Paul Pinchbeck, Joel Pinchbeck
Petrol Station and Mini Supermarket
| | | | |
| --- | --- | --- | --- |
| Mon - Fri | 7:30am | to | 6:30pm |
| Saturday | 7:30am | to | 5:00pm |
| Sunday | 9:00am | to | 5:00pm |
MOT Testing and Bodyshop
| | | | |
| --- | --- | --- | --- |
| Mon - Fri | 8:30am | to | 5:30pm |
| Saturday | | Closed | |
| Sunday | | Closed | |
01264 781356 - OPT 2
Kelvin Pinchbeck, Marion Green